We may have a new name, but LeapFrog Landscaping has been around for over 50 years.
When the Kildow brothers were ready to retire in 2015, their long time employee Brandon Hoffmeyer  decided to buy the business, and he now serves as President and project manager. His favorite projects are those that start with a clean slate and that he gets to see through to completion and beyond.
The rebranding of Kildow Brothers to Leapfrog Landscaping in 2016 reflects the company's dedication to providing quality service to our customers and our focus on being inspired by nature.
Our Management Team – on the ground working for you
Our crew is licensed, bonded and insured to guarantee you peace of mind. Our talent and work ethic will guarantee your satisfaction.
At LeapFrog Landscaping, our focus is on detail, beauty and function. Our goal is to have you be just as inspired by nature as we are.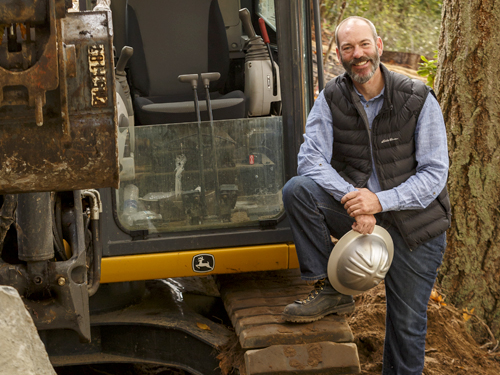 In 1990, 18 year old Brandon Hoffmeyer started working for the Kildow brothers and over the years started specializing in site preparation, design, and rock placement. As time moved on, he began managing more projects and has also worked as a subcontractor for other local business that need help with site preparation and landscape installation. In 2015, with the blessing of the Kildow Family, he purchased their family owned business and added small business owner to his resume. Brandon takes his design inspiration from nature and aspires to make his projects look like they belong here in the Pacific Northwest.